Find other great software tools like Miro to use for collaboration and innovation
While Miro is definitely the market leader and often considered one of the best digital whiteboard and collaboration tools, there are many other options to consider when determining software solutions for your team to use. Here are a few of those Miro alternatives!
1. Mural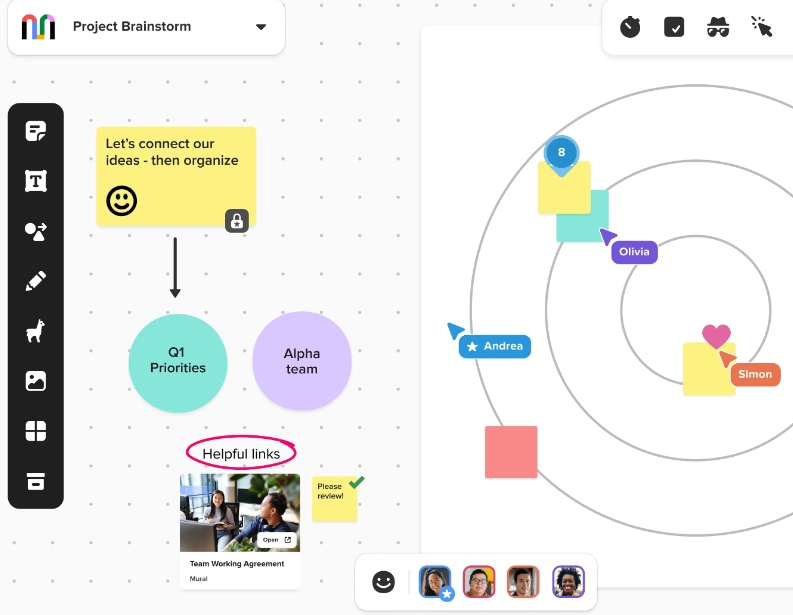 Pricing: Free – $17.99/user/month for their Business plan
Like Miro, Mural offers a blank digital canvas where you can organize your ideas in lists, flowcharts, frameworks, or drawings. Collaborate with others and use their extensive gallery of templates to build something new or brainstorm your next big idea. Mural also integrates with common software applications like Dropbox, Slack, and Microsoft Teams.
Learn more about the differences between Miro and Mural in our comparison guide.
2. Lucidspark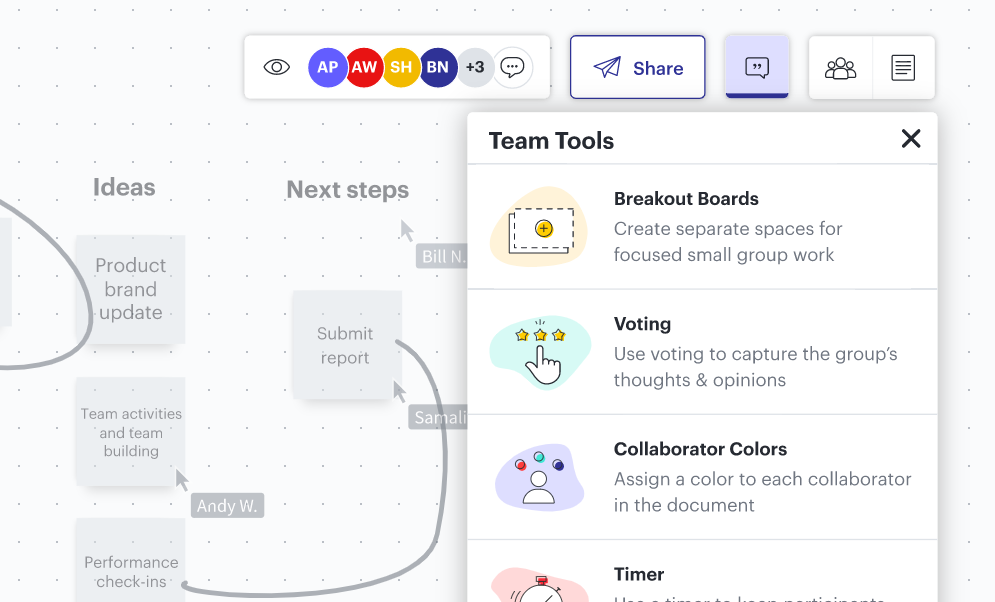 Pricing: Free – $9/user/month for their Teams plan
Lucidspark was built for brainstorming sessions, meetings, evaluation, and strategic planning. Features of this tool include freehand drawing, breakout boards, voting and polls, and integrations with common applications like Zoom and Slack.
Learn more about the differences between Miro and Lucidspark in our comparison guide.
3. Sprintbase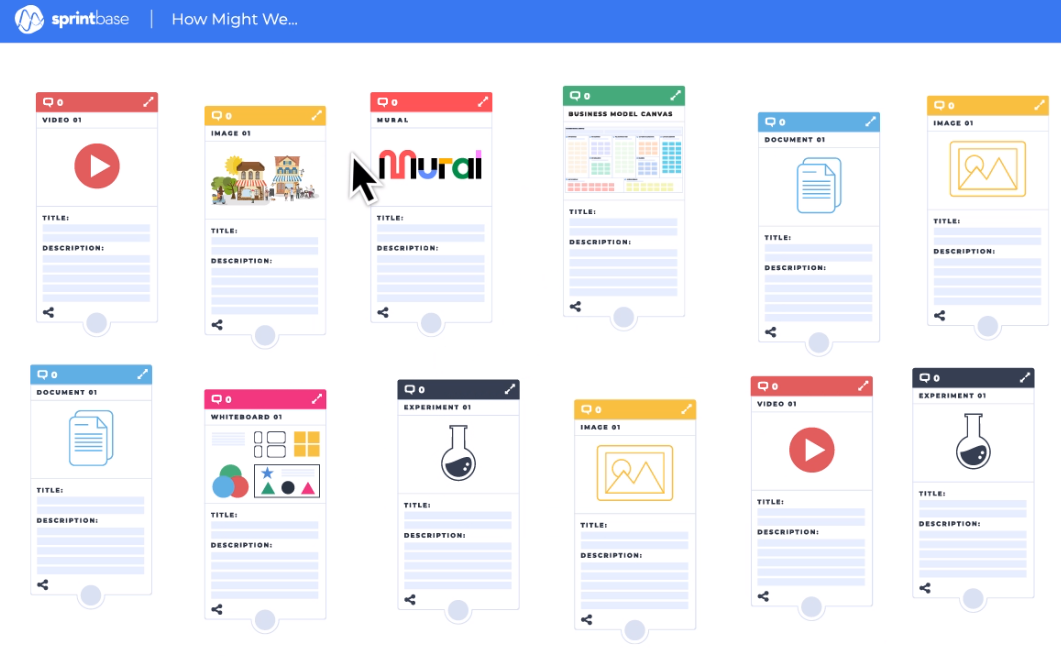 Pricing: Free – $9/user/month for their Essentials plan
Sprintbase is collaboration tool that actually integrates fully with Mural, creating a digital platform that allows facilitators to host and manage multi-teams workshops from a single interface and run amazing collaboration sessions.
4. Stormboard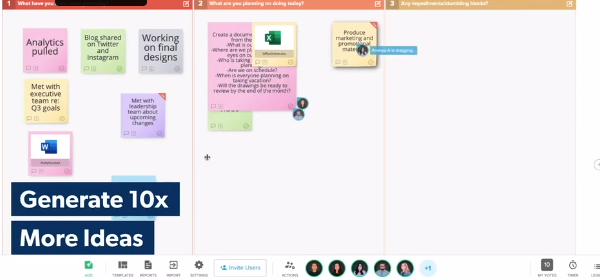 Pricing: Free – $8.33/user/month for their Business plan
Stormboard is another robust software tool for agile-focused teams, with the ability to connect and collaborate from anywhere. Choose from a selection of templates to build out a whiteboard that suits your specific needs.
5. Conceptboard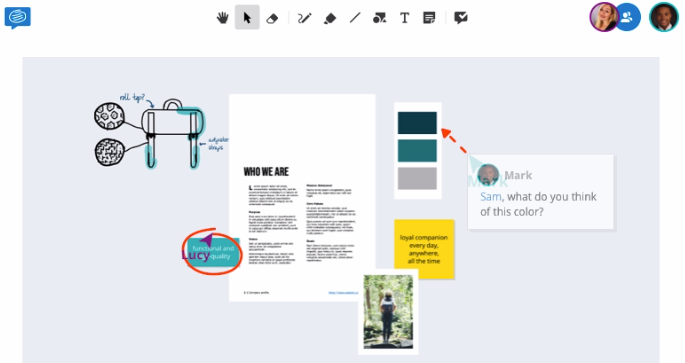 Pricing: Free – $9.50/user/month for their Business plan
Conceptboard is another visual collaboration platform that makes it easy to create, manage and stay connected on projects. We like the integrated screen share and video chat feature that allows you to embed it directly into the canvas.
6. Google Jamboard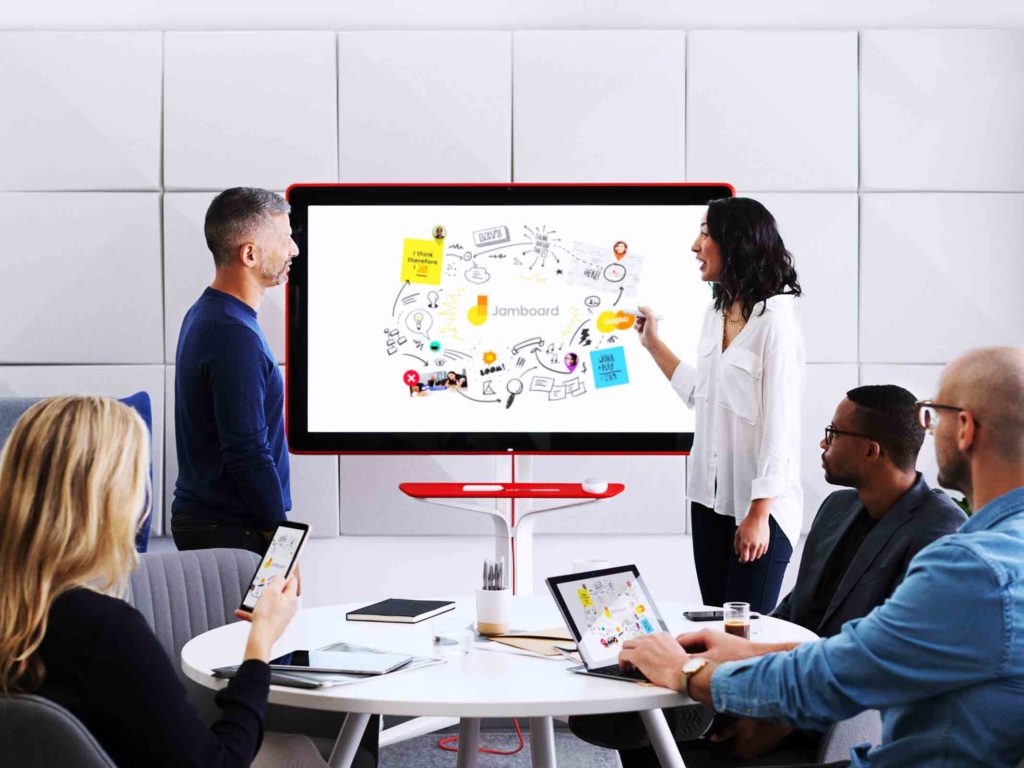 Pricing: Free
Google Jamboard is an online Google application that allows you to visualize and map out your projects from start to finish. The biggest benefit of this tool is its seamless integration with the full suite of Google products – like Docs or Sheets. Up to 50 collaborators are allowed at one time.
7. Canva Whiteboard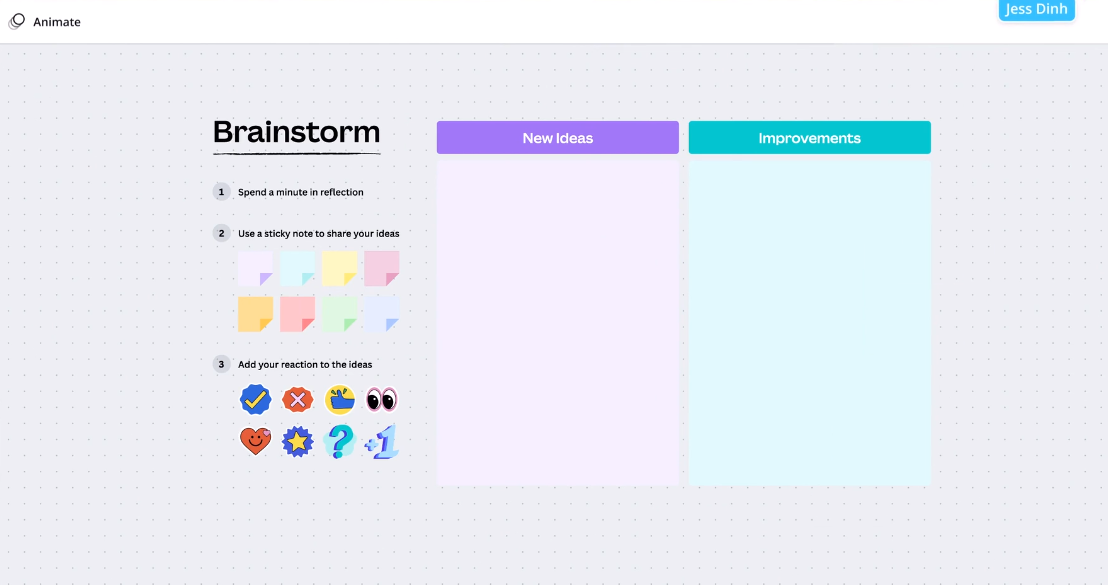 Pricing: Free
Canva's infinite whiteboard canvas was recently added to their design product to allow additional ways to visualize ideas. You can access millions of free images, icons, graphics, and elements, customize charts, assign tasks, and collaborate in real-time by sharing and working together on the design.
8. Klaxoon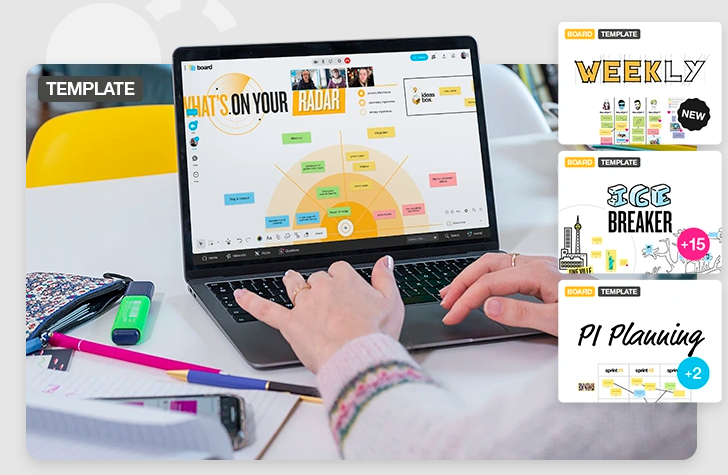 Pricing: Free – $24.90/user/month for their Starter plan
Klaxoon's aim is to "revolutionize" meetings, with features that offer participants the opportunity to engage and collaborate in real-time. Voting, quizzes, surveys, and a whiteboard-like asset are just some of the tools offered in this software solution.
9. FigJam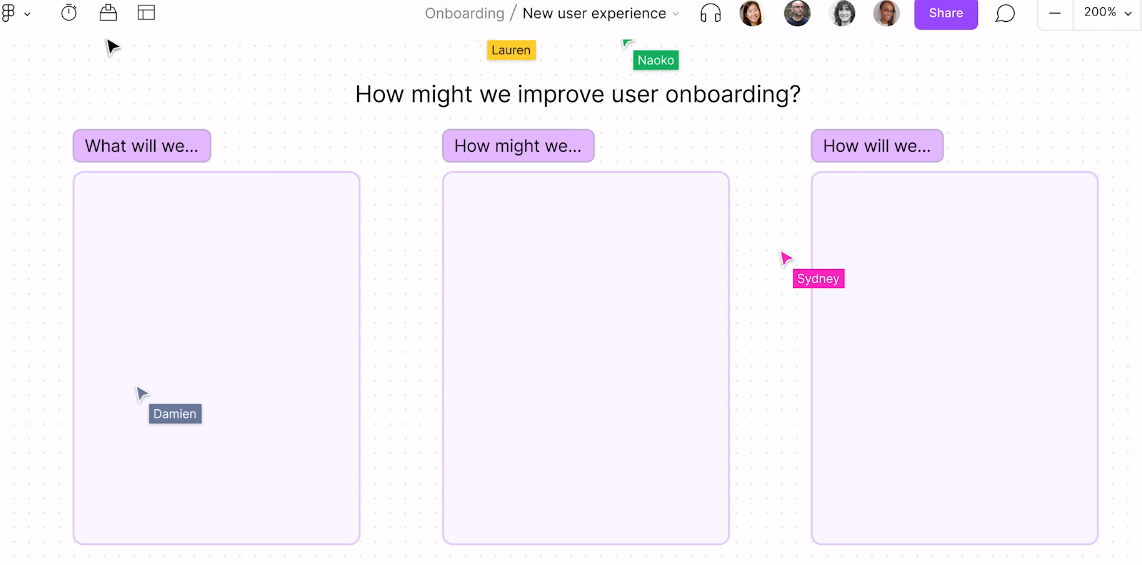 Pricing: Free – $5/user/month for their Organization plan
FigJam is a whiteboard tool with many of the great features you need to get started with digital collaboration. This includes things like freehand drawing, sticky notes, and reaction stickers/stamps. It also offers copy/paste with Figma itself, so everything can work together in one place.
Miro Alternatives Conclusion
As you can tell, there are many different whiteboard collaboration tools available that can significantly improve your innovation and design thinking processes. The one that will work best for you will depend on your budget, size of team, desired features, and unique needs. Miro is currently the market leader and most popular but there are other tools available too. You can learn about Miro on our blog.
Want to discover even more amazing software tools for collaboration? Review our post on top remote work software tools here.