Discover alternative software solutions for collaboration and innovation
Mural is a top-rated digital whiteboard and collaboration tool, but there are many other options to consider when determining which software solution is right for your team. Keep reading to find a list of Mural alternatives that we highly recommend for collaboration, innovation, and design thinking.
1. Miro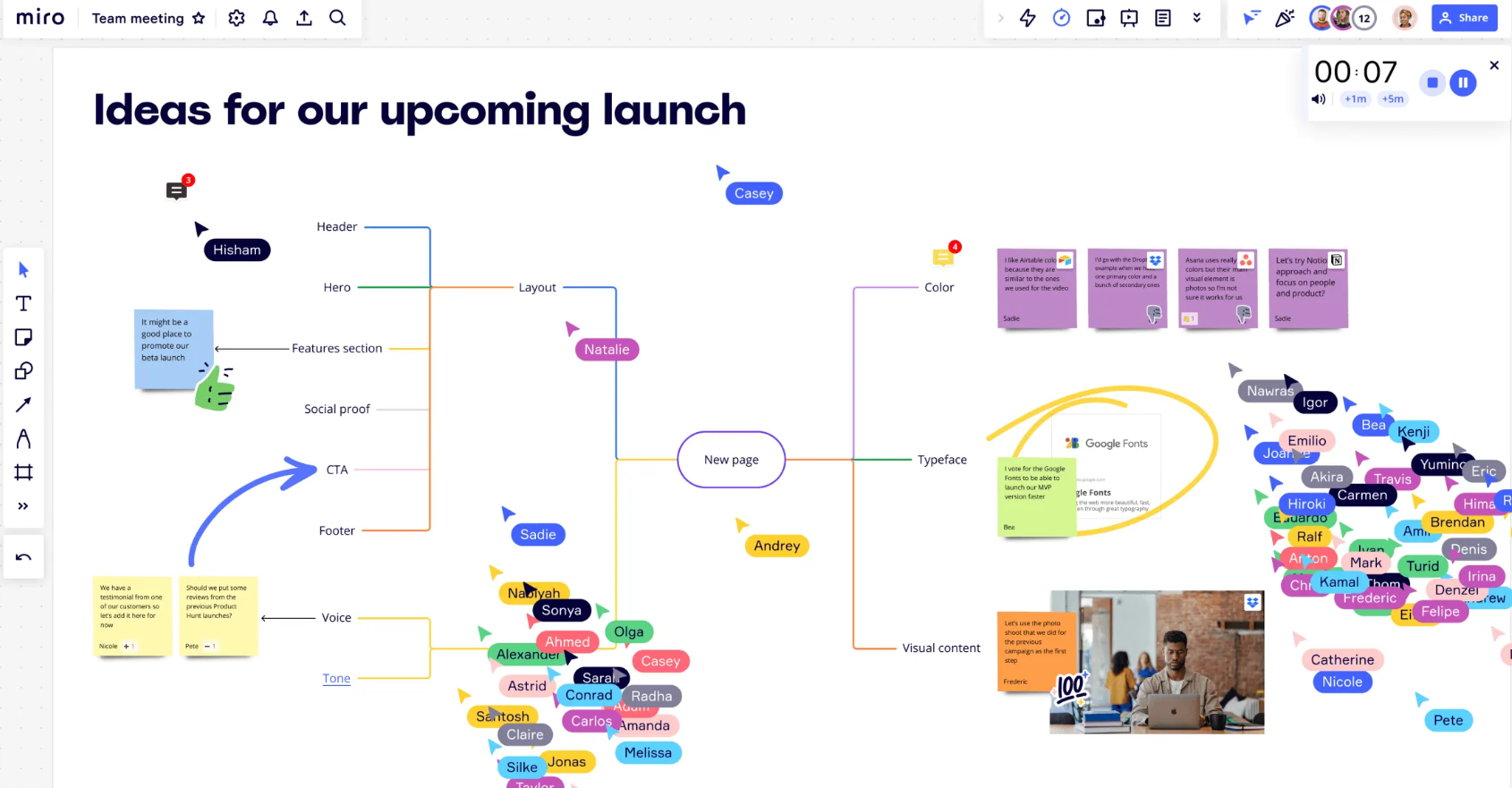 Pricing: Free -$20/user/month for their Business plan
Miro is a powerful software tool that facilitates the creation of virtual whiteboards, where users can brainstorm, organize ideas, design workflows, and visualize concepts. The tool offers a wide array of templates and widgets that can be used to create diagrams, mind maps, wireframes, and more.
Learn more about the differences between Miro and Mural in our comparison guide.
2. Sprintbase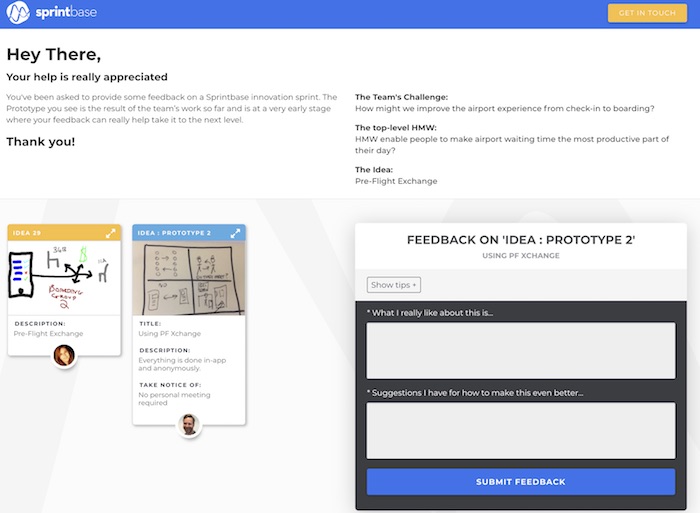 Pricing: Free – $9/user/month for their Essentials plan
Sprintbase is a versatile software tool designed to facilitate the process of running design sprints or design thinking projects. The tool actually fully integrates with Mural, offering a range of templates and tools to help teams define goals, generate ideas, prototype solutions, and test them with users.
3. Lucidspark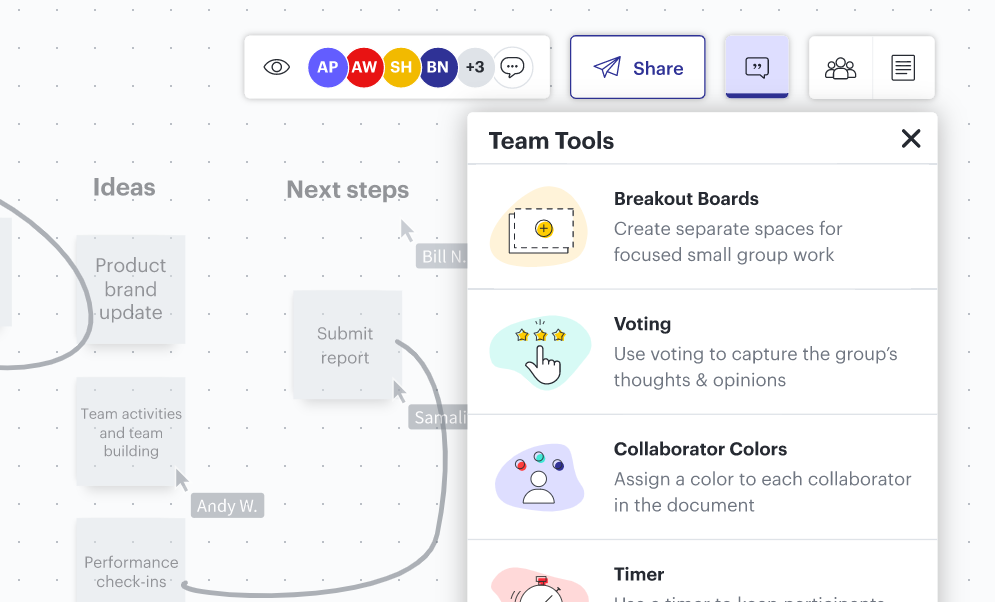 Pricing: Free – $9/user/month for their Teams plan
Lucidspark provides an interactive platform where teams can brainstorm ideas, organize information, and visualize concepts in real-time. With Lucidspark, users can create digital whiteboards, add sticky notes, draw diagrams, and collaborate with team members remotely. The tool offers a diverse range of features such as mind mapping, voting, and commenting, which foster engagement and creativity.
Learn more about the differences between Miro and Lucidspark in our comparison guide.
4. Stormboard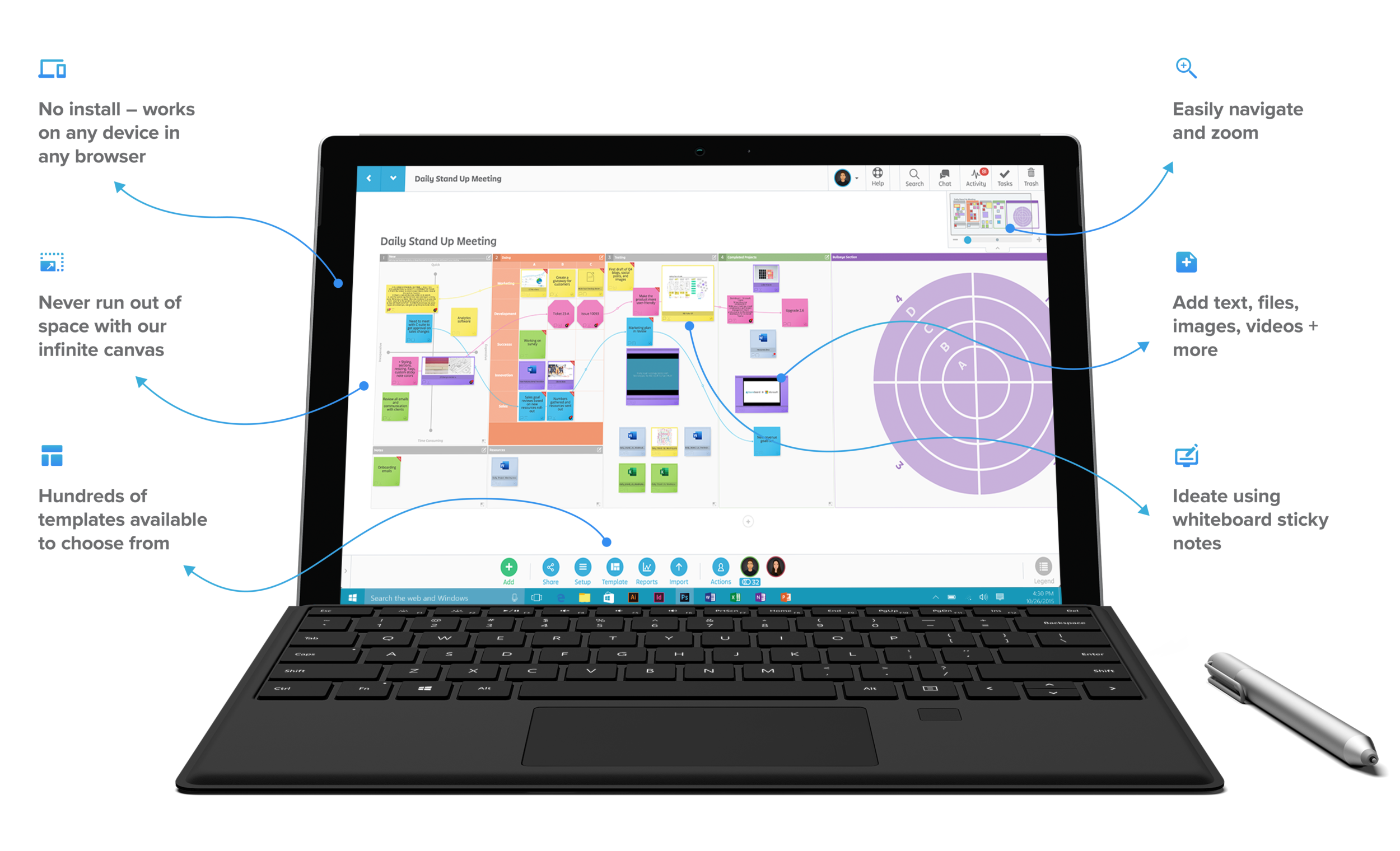 Pricing: Free – $8.33/user/month for their Business plan
Stormboard provides a digital workspace where individuals and teams can create interactive virtual whiteboards and populate them with a variety of customizable digital sticky notes, templates, and multimedia elements. This allows for the efficient organization and visualization of ideas, tasks, and projects. The platform also supports seamless integration with popular tools like Microsoft Office and Google Workspace.
5. Conceptboard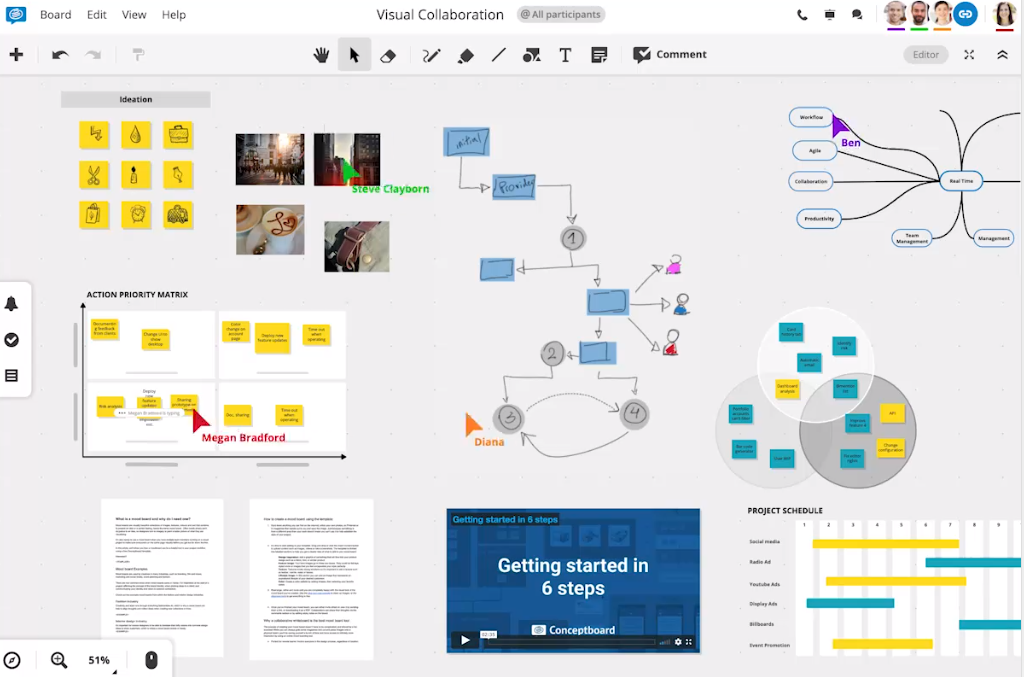 Pricing: Free – $9.50/user/month for their Business plan
Conceptboard allows you to create boards to visualize concepts, create storyboards, or collaborate on designs. The platform offers a rich set of collaboration features, including live commenting, annotation, and task assignment, enabling teams to provide feedback, track progress, and work together efficiently.
6. Canva Whiteboard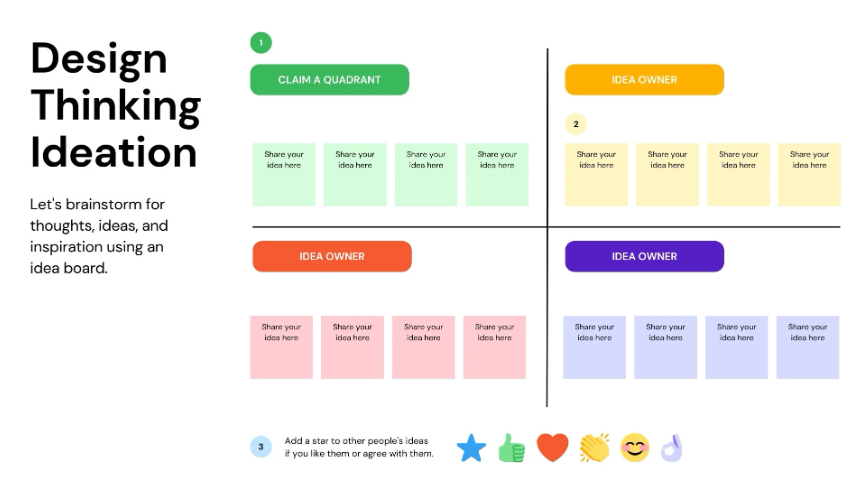 Pricing: Free
Canva Whiteboards is a template option within the design tool Canva that allows teams to collaborate and visualize ideas. There are millions of free images, icons, and graphical elements that can be used to create a customer journey map or brainstorm a creative solution. Share and work together on the design easily.
7. FigJam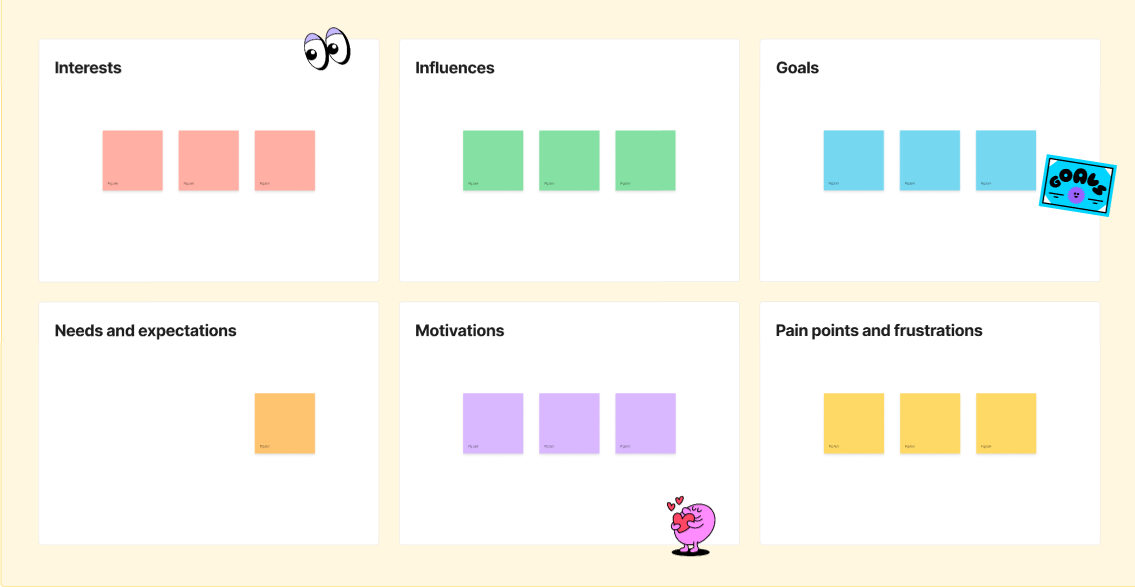 Pricing: Free – $5/user/month for their Organization plan
With FigJam, teams can create and customize boards, invite participants, and work together simultaneously, making it ideal for remote collaboration and virtual brainstorming sessions. In addition, FigJam integrates with Figma, a widely used design tool, enabling users to easily transition from brainstorming and ideation to design and prototyping.
8. Google Jamboard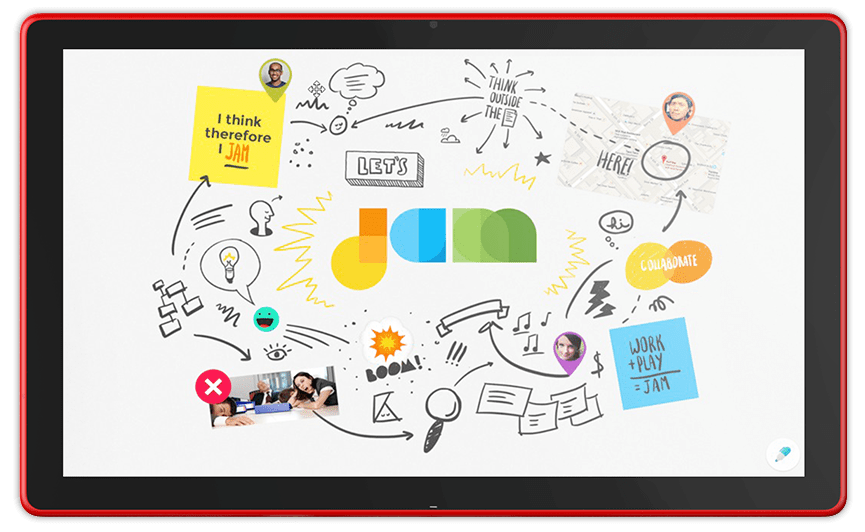 Pricing: Free
Google Jamboard is a cloud-based Google application that provides an interactive canvas where teams can work together. The tool supports the integration of images, documents, and even web content, enabling teams to bring external resources into their brainstorming sessions. Jamboard seamlessly integrates with other Google Workspace apps, making it easy to share and collaborate on documents, spreadsheets, and presentations.
9. Klaxoon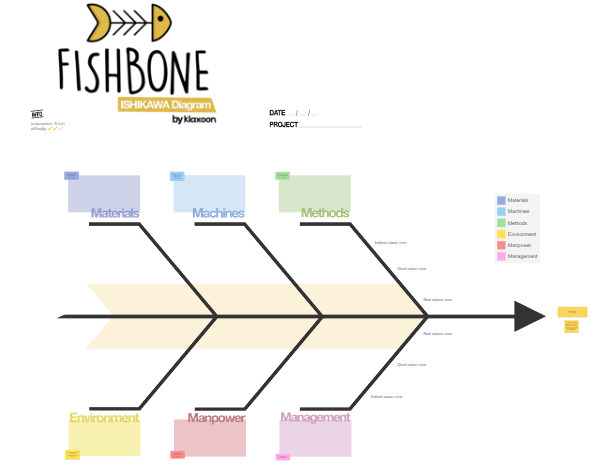 Pricing: Free – $24.90/user/month for their Starter plan
Klaxoon offers a suite of interactive tools and features, such as quizzes, brainstorming sessions, surveys, and games, which can be accessed and participated in through various devices. The platform promotes active participation and engagement by allowing participants to contribute ideas, vote on options, and provide feedback in real-time.
Mural Alternatives Conclusion
While Mural is undoubtedly a powerful tool for virtual collaboration and visual ideation, it's always good to explore alternative software options to find one that fits your team's needs and preferences. The software tools mentioned in this blog post, such as Miro, Sprintbase, and Lucidspark, offer unique features and capabilities to enhance teamwork and creativity.
Want to discover even more amazing software tools for collaboration? Review our post on top remote work software tools here.